ThinkTank's August 2022 Innovative session
Economic conditions for entrepreneurs and angle Investors by Mr Patrick Gouhin
THINK TANK
Innovative session this month started with a very quick introduction of the three verticals and then it was led by our esteemed guest who detailed the economic outlook about angel investing specially United States of America as enumerated herein below:

Mr Patrick Gouhin started with a brief about angel ecosystem and it's challenges during 2021-22 covering various stakeholders such as Gen Z, regulatory bodies and efforts of Venture Capitals at seed stages.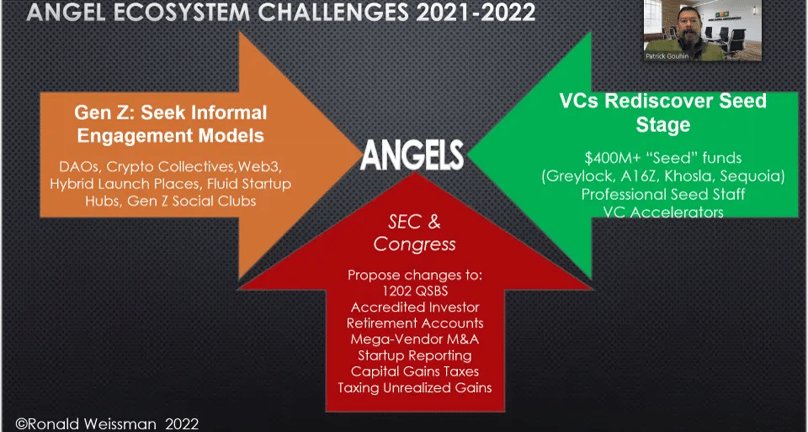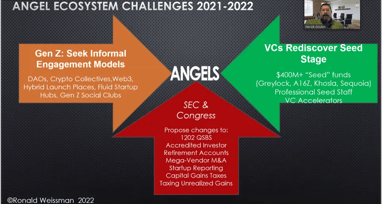 Exits till 2021 calendar year was soaring exorbitantly high in the United States with total value $777.4 billion with 1880 exits. As of June 30, an estimated 831 total exits of VC-backed businesses representing $48.8billion in value was recorded. This is shaping up to be a significant decline YoY, as reported by National Venture Capital Association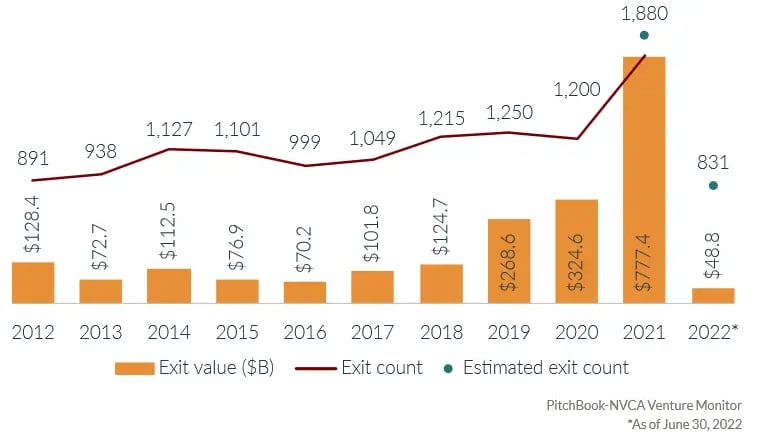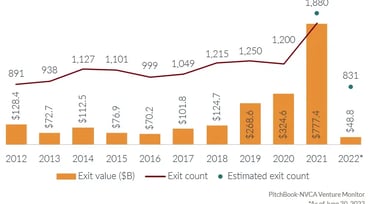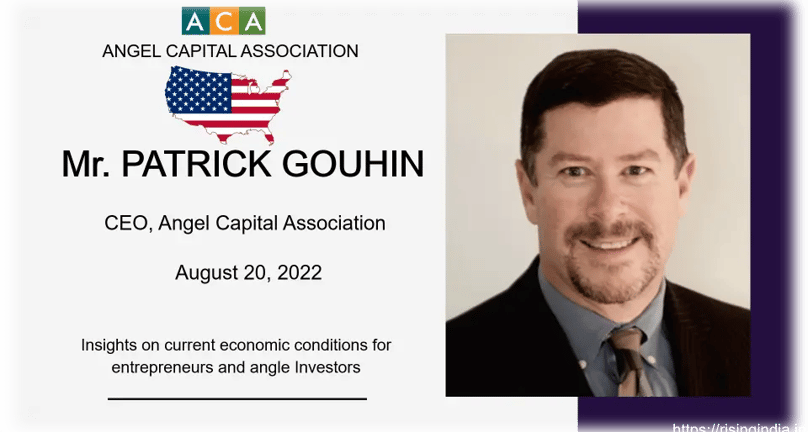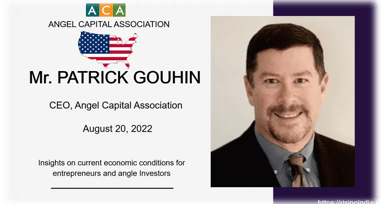 More venture cash, more deal competition as the valuation grew dramatically in 2021 with early stage at 2X, mid stage 4.1x and 7x for late stage ventures.

The participation of these larger players along with the residual momentum from the prior year contributed to a median deal size of $10.7 million, an 8% increase over the prior year's median, demonstrating that select startups are still able to capture desired amounts of capital. For nearly two decades investors have enjoyed favorable returns and more recently achieved them because startups were able to take advantage of the low cost of capital to energetically scale revenues without regard to profitability

To make cash last longer the balance of deal power is shifting a little towards investors as investors are guiding the terms with realistic valuations and improved governance. The viability runway increased to 36 months from 18 months

The resilience and reliability of angel capital has tremendously improved as angels remained the backbone of the startup ecosystem in good times and uncertain times, and stayed the course during the epidemic as VC seed funding fell in 2020 whereas deals per angel group grew 27% compared to pre-pandemic. Further, as per ACA Angel Founders report 2021 angels invested in more new deals and in more follow ons.

When is the good TIME to become angel now?
- The market is in transition phase from equity sellers to a buyers market;
- deal terms and valuations are becoming more rational
- strong companies build market share in down times
- Corporate global leaders (Apple, Microsoft, FedEx were built in down market
- exit takes 7-10 years as quoted by Steve Jobs that "it takes a long time to build an overnight success"

How to become an angel:
- As it is great time to be an angel investor, fundamentals of the company matters a lot;
- Mentor capital matters for good governance, hiring, fundraising & syndication and networking
- Maturity, seniority of angel organization, quality years of experience in serving the companies, and valuable networks
- Stand and be counted it is the time to be an angel

It was engaging interaction and a new learning for many of the participants, needless to say that it opened up more horizons about investing for a few who never explored to become an angel or how investing in startup ecosystem be highly rewarding.
RisingIndia ThinkTank is driven by strong ethical compass and moral values as global business compact, the venture studio is creating opportunities for:

a. Students for having practical exposure with innovative internship programs;
b. Experienced professionals to start their dreams;
c. Investors for early investment opportunities with sustainable ventures;
d. Talented women on break due to personal exigencies with flexi options;
e. Every aspiring person trying to make a difference to the society and the environment at large.
About Mr Patrick Gouhin:

Patrick Gouhin is presently serving in his fourth year as the CEO of the Angel Capital Association. ACA is a professional society for accredited angel investors, North America's most prolific early-stage investment class. ACA represents 15,000+ member accredited angel investors, 250 angel groups, accredited platforms and family offices and more than 30,000 entrepreneurial companies that are in ACA member investment portfolios. ACA focuses on knowledge sharing, best practices and insights from top angels to ensure smarter investment decisions, connections to vetted angels that supports deal flow and syndication processes, as well as representation to public policy makers to safeguard angel investor rights.
Before joining ACA, Mr. Gouhin spent 12 years as the Executive Director and CEO of the International Society of Automation (ISA). In this capacity he was responsible for the operations of a seventy year old, professional technical society with more than 40,000 members and 400,000 customers world-wide. During his tenure at ISA he provided leadership toward the creation of many new initiatives and companies including The Automation Federation, the Automation Standards Compliance Institute, a Globalization Initiative, Government Relations Program, the acquisition of a for profit company, Automation.com, and a Work Force Development Program including a U.S. Dept. of Labor sponsored Competency Model for the profession of Automation.

Before joining ISA, Mr. Gouhin served as the Chief Operating Officer of the American Institute of Aeronautics and Astronautics (AIAA). Mr. Gouhin spent 15 years with AIAA whereby his leadership contributions resulted in significant revenue growth and the successful management of 300+ project teams through development and delivery of multiple products and services.

Mr. Gouhin also served as the first Vice President of Operations and Technology Transfer for the National Institute of Aerospace (NIA) at Langley Research Center. This was a start-up resulting from $69 million government contract award to build a world-class research and education institute. Gouhin served as the Chief of Staff in managing day-to-day operations and issues associated with a 50-person start-up company after serving as the integration lead on the successful proposal. Mr. Gouhin has experience in corporate divestitures and acquisitions, business construction and relocation, strategic standardization management, business planning, project management, process mapping and reengineering, and serving as a company wide change agent. He has served on the board of directors of multiple non-profits including the Council of Engineering and Scientific Society Executives (CESSE) where he is a past president.

He has a bachelor of science in aeronautical and astronautical engineering from The Ohio State University and a master's in engineering management from George Washington University. He has also completed the executive development program at the University of Pennsylvania's Wharton School and the advanced management college of Stanford University. Mr. Gouhin is a Certified Association Executive or CAE and you can connect with him through website of Angel Capital Association.