India's Landmark Achievement of 100K+ Registered Startups
Celebrating India's Startup Ecosystem: 115K Strong and Growing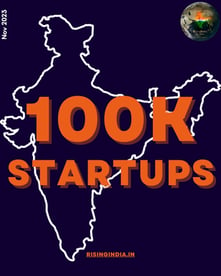 India's entrepreneurial spirit has always been a beacon of innovation and resilience. Today, this spirit is celebrated more than ever as we reach a pivotal milestone in our nation's economic journey. The Department for Promotion of Industry and Internal Trade (DIPP) has officially recognized over 114,000 startups, a number that doesn't just reflect quantity but also the quality and diversity of India's booming startup ecosystem.
A Testament to Robust Growth
In less than a decade, India has seen an unprecedented surge in startup registrations. This remarkable growth trajectory is a clear indication of the country's vibrant ecosystem that is not just burgeoning but thriving with innovation and transformative ideas.
Each of these 114K+ startups has a unique story, a solution to offer, and a dream to realize. They represent the entrepreneurial pulse of the nation, pulsating with the energy and aspiration of its founders.
Sectoral Innovation at Its Peak
The sectors of e-commerce, fintech, health-tech, and ed-tech have particularly witnessed a surge, with startups not only catering to the vast Indian market but also setting benchmarks on the global platform. These startups have been addressing the most pressing challenges of our times and providing sustainable, innovative solutions that hold the potential to transform lives.
Government as the Catalyst
The supportive policies and initiatives by the Indian government have acted as catalysts, propelling the startup engine forward. Simplified regulations, easier funding avenues, and international partnerships have all contributed to creating an environment where businesses can start, scale, and succeed with unprecedented speed.
Small Businesses: The Economy's Backbone
The contribution of small businesses cannot be overstated in this context. They account for a significant portion of the industrial output and employment, evidencing the might of SMEs in the nation's economic framework. They are the unsung heroes, the silent yet powerful drivers of the Indian economy.
India symbolizing a vibrant ecosystem of innovation and entrepreneurship.
Gujarat's thriving startup scene counts 9,053 ventures, with a significant focus on validation, highlighting a strong culture of product and market fit at 45%.

Rajasthan showcases a diverse startup landscape with 4,034 startups, with a majority in the validation phase at 35%."

Maharashtra's startup ecosystem is robust with 20,698 startups, showing a substantial percentage in early traction at 30%, indicating dynamic growth and customer engagement.

Uttar Pradesh: 10,733 startups, Haryana: 6,068 startups, Tamil Nadu: 7,399 startups, Kerala: 4,888 startups and Karnataka 12399 registered startups till date.


Nurturing the Next Wave of Entrepreneurs

As India's first venture studio, RisingIndia ThinkTank stands at the forefront of this entrepreneurial revolution. Through strategic collaboration, networking, and resource access, RisingIndia is committed to turning the gears of innovation for every new business idea that comes our way.
Your Idea, Our Support
To the new founders on the block and the seasoned entrepreneurs aiming for their next big leap – we invite you to share your journey with us. What state are you innovating in? What stage is your startup currently at? Your stories of resilience and ambition inspire us to forge ahead with our mission.
The Road Ahead
As we celebrate this milestone, our eyes are set on the horizon, eager to embrace the next 100,000 stories of innovation and entrepreneurship. With every new registration, we are weaving a stronger tapestry of India's business narrative – one that is inclusive, impactful, and infused with the indomitable spirit of its people.
Let's keep the momentum going. Together, we can craft a future that is built on the pillars of creativity, sustainability, and inclusive growth. Here's to every startup that made the 114K mark possible, and to the many more that will join this incredible journey.
In the words of startups across the nation: Onwards and upwards!
For more stories of innovation and entrepreneurship, stay connected and register your Startup Today!