(AtmaNirbhar) ThinkTank's January Session
January 2022 innovative session by RisingIndia ThinkTank for Sustainable Entrepreneurship to collaborate in rising India. To make India self reliant in startup ecosystem. India's only venture studio
THINK TANK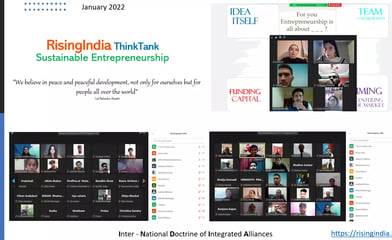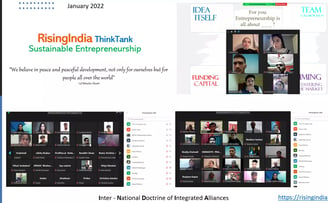 It was gratifying to host nearly 56 enthusiasts interested into startup ecosystem from all over the world. The monthly sessions are conducted with view to introduce India's first venture studio and share about it's vision, next startups and opportunities for everyone.

Sharing about Sustainable entrepreneurship which is fairly a unique concept initiated by RisingIndia in 2020 which is getting increased awareness as more and more of us are willing to learn about Sustainable Entrepreneurship. How we believe that sustainable businesses can be built without external funding and sharing the unique collaboration opportunity for interested bright minds to join

It was overwhelming to find students taking active participation in entrepreneurship with foresight of progressive career line, we also thank Indian Institute of Management - Trichy, Lucknow and Sirmaur for extending the opportunity to their students

At the end we firmly believe that we all are volunteers to the mother earth and have inclusive responsibility to protect it for today and future generations, if you echo the same ideology join us.
Join the movement Tie a #treeandhumanknot

Register for the next session on improved session on Sustainable Entrepreneurship every month second last Saturday 21:00 IST link is available under ThinkTank section of this website.
Thank You for reading!
Earlier on Linkedin the event was posted to invite people to join "𝐓𝐚𝐤𝐞 𝐑𝐢𝐬𝐤𝐬 𝐢𝐧 𝐘𝐨𝐮𝐫 𝐋𝐢𝐟𝐞 If u 𝐖𝐢𝐧, U Can 𝐋𝐞𝐚𝐝! If u Lose, U Can Guide!" ― 𝘚𝘸𝘢𝘮𝘪 𝘝𝘪𝘷𝘦𝘬𝘢𝘯𝘢𝘯𝘥𝘢
RisingIndia scheduled to host (AtmaNirbhar) ThinkTank's January Session on Sustainable Entrepreneurship (January 22, 2022 Time 21:00 IST)
to inspire towards

• 𝘌𝘯𝘵𝘳𝘦𝘱𝘳𝘦𝘯𝘦𝘶𝘳𝘪𝘢𝘭 𝘫𝘰𝘶𝘳𝘯𝘦𝘺 𝘸𝘪𝘵𝘩 innovative startups
• 𝘐𝘥𝘦𝘢𝘱𝘳𝘦𝘯𝘦𝘶𝘳𝘴 𝘵𝘰 𝘮𝘢𝘵𝘦𝘳𝘪𝘢𝘭𝘪𝘻𝘦 𝘸𝘪𝘵𝘩 𝘣𝘶𝘴𝘪𝘯𝘦𝘴𝘴 𝘢𝘤𝘶𝘮𝘦𝘯
• 𝘌𝘯𝘵𝘳𝘦𝘱𝘳𝘦𝘯𝘦𝘶𝘳𝘴 𝘵𝘰 𝘣𝘶𝘪𝘭𝘥 𝘨𝘳𝘰𝘸𝘵𝘩 𝘮𝘢𝘱 and strategy
• 𝘐𝘯𝘷𝘦𝘴𝘵𝘰𝘳𝘴 𝘵𝘰 𝘭𝘦𝘷𝘦𝘳𝘢𝘨𝘦 𝘰𝘯 𝘴𝘶𝘴𝘵𝘢𝘪𝘯𝘢𝘣𝘭𝘦 𝘣𝘶𝘴𝘪𝘯𝘦𝘴𝘴𝘦𝘴