Mr Dave Berkus on ThinkTank's June 2022 session
David W.Berkus on EXTENDING THE RUNWAY Insights for entrepreneurs to preserve cash and resources in tough times
THINK TANK
June session has privilege to get co-hosted by Mr Dave Berkus on Extending the Runway

An emergence of RisingIndia ThinkTank being India's first venture studio backed by modern management principles and core values.

About Mr Dave Berkus:
Dave Berkus has a well-established track record in operations, venture investing and corporate board service, both public and private. As an entrepreneur, he has formed, managed and sold successful businesses in the entertainment and software arenas. As a private equity investor, he has obtained healthy returns from liquidity events in over a dozen investments in early-stage ventures. As a corporate mentor and director, he was named "Director of the Year" for his directorship efforts with over 40 companies.
Dave created his first company, Custom Fidelity, Inc., at the age of 15. He sold his interest in the Company to found Computerized Lodging Systems, Inc. becoming an early pioneer in the mini-computer industry. He is credited with innovation of numerous technology "firsts" and guided the computer company through a decade of growth, including two consecutive years on the Inc.500 list of America's fastest growing companies. He was recognized for those pioneering achievements with his induction into the Hospitality (HFTP) "International Hall of Fame"– only one of forty-two people worldwide so honored over the years.
Dave is current or recent Board Chairman or board member for numerous public and private technology companies. Active in a total of over forty companies, he was recognized as "Director of the Year" by the Orange County-based Forum for Corporate Directors, and "Technology Leader of the Year" by the Los Angeles County Board of Supervisors.
Dave is co-author of fourteen books for entrepreneurs, investors and corporate boards. He has made over 206 investments in early-stage ventures, for which he has an IRR of 98%, and manages four early-stage funds. Dave is Chairman Emeritus of Tech Coast Angels, the largest angle group in the United States.


Extending the Runway: Entrepreneurs building startups on the premise of funds and it is to economic times now which is much harder time in accessing money and therefore it is very important time for ventures of being sure about they have and use of that money is now becomes extremely important. Bottom line is in preserving cash Sharing his further insights on 5 ways to preserve the resources(cash)
1. Time: Time is the most important thing to worry about that your product should be ready to utilize the money you have as soon as you get which leads to indication that money should not be idle so it is of vital importance to be ready to go market and be market ready as soon as you have money to spend to avoid what Mr Berkus called as Time Bankruptcy 2. Relationships: Keeping the relationships with all the stakeholders is always important and during recession it is important that when money goes faster, the relationship should be leveraged to use the same money for longer 3. Process: Entrepreneurs should device a process of building the product to to get the product to market. Citing an example of Sales Process with 3 important self questions 1. Why buy it? 2. Why buy mine? 3 why buy now. And craft the pricing strategy accordingly. Fundamental of predictable crisis are proper organizational, financial, and quality control mechanism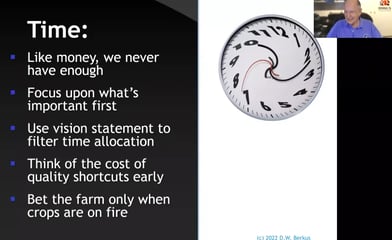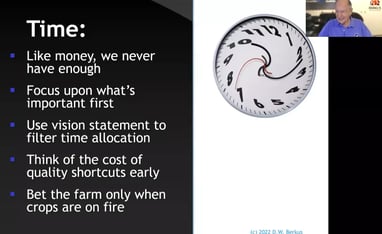 4. Context: "where is the market?" how to evaluation and ensure to avoid being too early or too late. If you can create/launch product which others can not then your pricing strategy have an edge
5. Money: Cash is the lifeblood of any business or entrepreneurship. It is the most critical and all-purpose resource because it is used to acquire or hire other resources. In an organization, money is employed to generate more money in the form of profits or surplus. Never run out of money, no matter how good is your product or even strategy but if you run out of money you lose all options, business ventures are unwilling to finance ideas, they will finance product which is already in market. Triage cash position during these times, observe concept like Demand pull v cost push. Tyranny of the new office and it is great option to have virtual offices and allow people to work from home which has dual advantage for the company as well as people who work for it. Never use short term borrowings to pay long term debt. Having Growth plans, calls for more cash. Discipline of the constant cash forecast should be part of board process and specially for the CEO (Berkus's standard cash forecast is 13 weeks)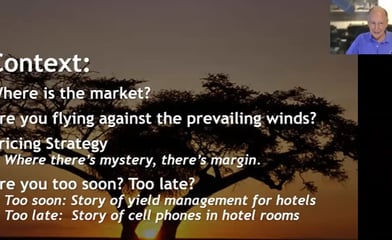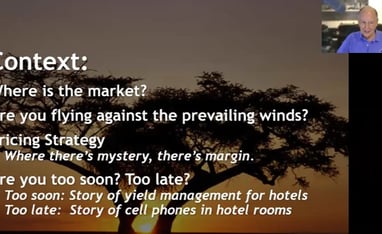 Accumulate: way of accumulating more products and acquiring more ways of selling them. Marketing and merchandising. Distributing through many channels, which reinforces the relationships in the market place
Inter relationships :
Optimal management is essential for competing demands, avoiding pitfalls, evaluating internal & external crises, and managing resources, and the team. In general, an organization needs 3 major roles, a developer, a finance person, and a manager to begin & run smoothly. Quick evaluation of external and internal crisis. Management working as a team, crew resource management and mastering crew coordination. The board should be recruiting to fill the board blind spots, abilities of one area may be to help identify development need or resource who can fill the blind spot.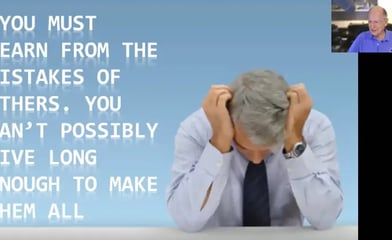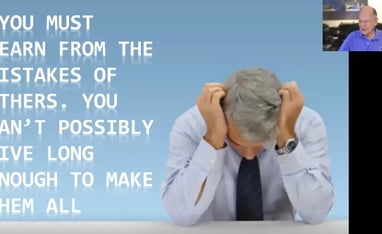 You can email Mr Dave Berkus, visit his website and also read the real stories of the companies where he invested on Berkonomics weekly
"Sustainability is everything and have given large part of his fortune for people's education - Dave Berkus"

Sustainable Entrepreneurship:
Focusing on business innovation and creating value out of it without relying on external funding, the term was created by the founding team in 2020
GivingFirst:
Do not wait for an opportunity to give back, the concept was announced by founding team on January 1, 2021 to inspire fellow human being for giving first with yet another TreeAndHumanKnot
To know more about it, please visit May 2022 session in this diary at https://www.risingindia.in/introduction