Celebrating the Selection of NextStartups for State Government Funding
A momentous achievement for our curated Next Startups
RISINGINDIATHINK TANK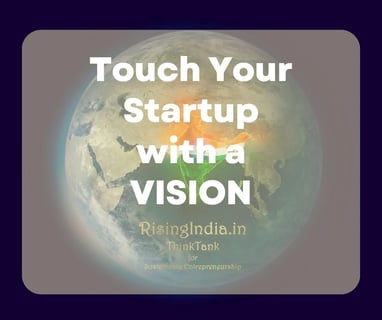 We are thrilled to announce a momentous achievement for our curated two NextStartups! It is with great joy and gratitude that we share the news of their selection by the State Government's Startup Cell to receive funding for ideation. This recognition is a testament to the incredible potential and promising future of our curated Next Startups.
At RisingIndia, our mission has always been to empower and nurture the next generation of innovative ventures. We firmly believe in the power of entrepreneurship to drive economic growth and societal development. This recent collaboration with the State Government's Startup Cell marks a significant milestone in our journey towards realizing this vision.
The funding received for ideation will provide invaluable support to the NextStartups in their early stages of development. It will enable them to further refine their ideas, build strong teams, and fuel their progress towards bringing innovative solutions to the market. We are immensely proud of their accomplishments and look forward to witnessing their growth and success.
As we embark on this exciting journey, we are actively seeking talented individuals to join the teams of the Next Startups. If you know someone who shares our passion for entrepreneurship and innovation, we would be grateful for any references or recommendations. Together, we can foster a vibrant ecosystem of collaboration, mentorship, and success.
We extend our heartfelt thanks to the State Government's Startup Cell for their belief in the potential of the Next Startups. Their support and encouragement validate our collective efforts to create a thriving startup ecosystem in our region.
We invite you all to join us in celebrating this milestone and to stay tuned for updates on the progress and achievements of the NextStartups. With your continued support, we are confident that they will make a lasting impact on their respective industries and contribute to the overall growth of our entrepreneurial landscape.
The Power of Entrepreneurship
Entrepreneurship is the process of starting a new business. It is a risky but potentially rewarding endeavor. Entrepreneurs are often driven by a passion for their ideas and a desire to make a difference in the world.
There are many benefits to entrepreneurship. Entrepreneurs have the opportunity to be their own boss and set their own hours. They can also be creative and innovative, and they can make a real impact on the world.
However, entrepreneurship is not without its challenges. Entrepreneurs often face long hours, financial uncertainty, and competition. They also need to be able to deal with failure, as it is a common part of the entrepreneurial journey.
Despite the challenges, entrepreneurship can be a very rewarding experience. Entrepreneurs have the opportunity to create something new and to make a difference in the world. They also have the opportunity to build successful businesses and to achieve financial independence.
If you are thinking about becoming an entrepreneur, there are a few things you should keep in mind. First, you need to have a passion for your idea. You also need to be willing to work hard and to take risks. Finally, you need to be persistent and to never give up on your dreams.
Find a Strategist. A mentor can provide you with guidance and support as you navigate the entrepreneurial journey, while strategy will set foundation for your Startup

Collaborate Partnerships can help you learn from others and find resources that will help you succeed

Don't be afraid to ask for help. There are many people who are willing to help women entrepreneurs succeed. Don't be afraid to reach out for help when you need it

Believe in yourself. The most important thing is to believe in yourself and your ability to succeed. If you have a passion for your idea and you are willing to work hard, then you can achieve anything.
If you have these qualities, then entrepreneurship could be the right path for you. It is a challenging but rewarding journey, and it has the potential to change your life.
Ignite Your Entrepreneurial Journey with RisingIndia: Join the Next Generation of Innovative Ventures
Are you ready to unleash your entrepreneurial spirit and embark on a transformative journey of innovation, growth, and success? Look no further than RisingIndia, the catalyst for your startup dreams!
At RisingIndia, we believe in the power of entrepreneurship to shape the future. We are dedicated to empowering and nurturing the next generation of innovative ventures, providing a dynamic platform where your ideas can flourish and your vision can become a reality.
By registering your startup with RisingIndia, you gain access to a vibrant ecosystem of support, resources, and opportunities. Let us be your trusted partner on this exhilarating entrepreneurial voyage, propelling you towards greatness and helping you navigate the challenges that lie ahead.
Why RisingIndia?
1. Strategy Curation: Benefit from the wisdom and guidance of experienced professionals who have successfully navigated the startup landscape. Our seasoned experts will share their knowledge, insights, and industry connections to propel your startup to with unique strategy for new heights.
2. Tailored Support: We understand that each startup is unique, with its own set of challenges and aspirations. That's why we offer customized support to meet your specific needs. From refining your business model to developing a robust growth strategy, our team will be by your side every step of the way.
3. Access to Funding: We recognize that funding is crucial for fueling your startup's growth. Through our extensive network of investors and strategic partnerships, we can connect you with the right funding opportunities to accelerate your journey towards success.
4. Collaborative Network: Join a vibrant community of like-minded entrepreneurs, innovators, and industry leaders. Exchange ideas, forge meaningful connections, and collaborate on exciting projects. Together, we can create a supportive ecosystem where everyone thrives.
5. Unleash Your Potential: At RisingIndia, we believe in your limitless potential to make a positive impact. We encourage you to dream big, think boldly, and push the boundaries of innovation. With our support, you have the opportunity to redefine industries, disrupt the status quo, and leave a lasting legacy.
Join the RisingIndia Family Today!
Don't let your entrepreneurial aspirations remain dormant. Take the leap and register your startup with RisingIndia. Together, we will unlock a world of possibilities, empower your vision, and turn your dreams into reality.
Visit "your Startup" to explore the diverse range of services and resources we provide to curate and make startup a success story like this. Register your startup today and be a part of the entrepreneurial revolution that is reshaping industries and transforming lives.
Remember, the future belongs to those who dare to dream and take action. Join us in RisingIndia, where innovation meets opportunity and entrepreneurial success becomes a reality.
Together, let's rise and shape a better tomorrow!
Warm regards,
RisingIndia ThinkTank
Sustainable Entrepreneurship